Follow Your Favorites!
Sign in
to get custom notifications of new products!

Featured Product
d20 Modern Core Rulebook (d20M)
by Wizards of the Coast

Experience the thrills of every blockbuster action movie, every heart-pounding first-person shooter, and every explosive, high-octane escapade you can dream up.
Inside this book, you'll discover everything you need to build the ultimate modern-world campaign filled with cinematic adventure, and to create the dynamic heroes needed to face the harrowing dangers that await within.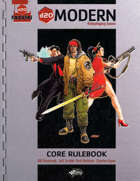 | Products found in this section... | Sort by: |
| --- | --- |
| | | |
| --- | --- | --- |
| Title | Publisher | Price |
| PLAY EVERY ADVENTURE YOU CAN IMAGINE Experience the thrills of every blockbuster action movie, every heart-pounding first-person shooter, and every explosive, high-octane escapade you can dream up. Inside this book, you'll discover everything you need to build the ultimate modern-world campaign filled with cinematic adventure, and to create the dynamic heroes needed to face the harrowing dangers... [click here for more] | Wizards of the Coast | $19.99 |
| Whoever Has the Most Stuff Wins! The d20 Future Tech supplement describes a dazzling array of new gear and gadgets for use with d20 Future, built on d20 Modern rules. Get the latest and greatest technology for heroes and villains of the future. In addition, there are new types of starships, robots, and mecha, along with expanded rules for combining character,... [click here for more] | Wizards of the Coast | $9.99 |
| Explosive action and epic adventure fill the modern world when fantasy and reality collide. In Urban Arcana, heroes armed with swords, spells, shotguns, and cell phones dive headlong into trouble with monsters, mobsters, cabals, and corporations. Take a deep breath, and discover the realms of fantasy within the gritty shadows of the modern world. To use this product, you also need the d20... [click here for more] | Wizards of the Coast | $19.99 |
| Locations of adventure for any d20 Modern campaign. d20 Critical Locations features 40 full-color maps of interesting modern locations, valuable to any d20 Modern campaign. Beautifully rendered by cartographer Christopher West and ready for use in any d20 Modern, each map comes with adventure hooks and pregenerated supporting characters. Some maps appeared previously in Polyhedron Magazine, but most... [click here for more] | Wizards of the Coast | $9.99 |
| Lock and Load, then Rock and Roll Check your target and open fire. Inside, you'll find a fully illustrated arsenal ranging from pistols and submachine guns to grenade launchers and antimateriel rifles. The d20 Weapons Locker provides detailed descriptions and statistics for reach firearm to make sure the characters of any d20 Modern roleplaying game are packing... [click here for more] | Wizards of the Coast | $14.99 |
| Designed for use with the d20 Modern Roleplaying Game, the d20 Menace Manual presents a host of villains, monsters, and other adversaries to pit against the heroes in any modern roleplaying game. It contains extensive real-world information, including information about existing organizations such as the CIA and write-ups of well-known mythical creatures... [click here for more] | Wizards of the Coast | $14.99 |
| Rally Heroes and Rewrite History. Dash down the gaslit streets of Victorian horror or ride the dusty trails of the Wild West. Board the tall ships of the Spanish Main or raid the trenches of the Great War. in d20 Past, heroes can find excitement in any historical era from the Renaissance to World War II. Whether period-specific or pulp-flavored, the posibilities for adventure... [click here for more] | Wizards of the Coast | $9.99 |
| This new rules supplement provides everything players and Gamemasters need to create and run campaigns featuring cybernetics in the post-modern realm of cyberpunk fiction. Building on the d20 Future cybernetic rules, d20 Cyberscape includes rules for installing cybernetics and playing cyborgs, as well as new advanced classes and enhancements. d20 Cyberscape also features... [click here for more] | Wizards of the Coast | $9.99 |