Follow Your Favorites!
Sign in
to get custom notifications of new products!

Featured Product
Trouble on the Steel Pier: A Dystopia Rising Evolution Jumpstart
by Onyx Path Publishing

This adventure takes you into the world of Dystopia Rising: Evolution. Generations have passed since the zombie virus took hold and caused people to mutate into different Lineages. Cities crumbled and fell, and only now are new ones being built from the bones of the old.
This is dystopia. The world is broken. It is up to you to pick up the pieces and make a new world from the remains.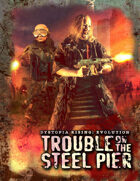 | Products found in this section... | Sort by: |
| --- | --- |
| | | |
| --- | --- | --- |
| Title | Publisher | Price |
| You are the child of a God, born to the magic of yesterday and the promise of tomorrow. You live in a World of myth, where every ancient story is true. Your ancient enemies, the Titans, stir in their prison beneath the lands of the dead. Their spawn issues forth from lands of myth, and the specter of war falls across the heavens. In this age of turmoil, you seize your birthrights and feel the call... [click here for more] | Onyx Path Publishing | $14.95 |
| The savage Titans have escaped their eternal prisons to wage war against the Gods once more. Their battles in the lands of myth have spilled over into our World. But even the Gods cannot stop their personal rivalries and squabbles long enough to care for the peoples who worship them. Find your destiny and seize your birthright. Scion: Hero details the children of the Gods when they have been touched... [click here for more] | Onyx Path Publishing | $19.95 |
| Though knowledge, wisdom, and the ability to see the unseen are many Scions' birthrights, the World holds infinite secrets. Gaze deep into Tezcatlipoca's mirror or the eyes of an avian bringer of omens, and no matter how sagacious you imagine yourself to be, you'll learn something new — or something older than time. Scion: Mysteries of the World presents optional rules and new pantheons,... [click here for more] | Onyx Path Publishing | $14.99 |
| "People don't need a reason to be awful to each other. They just need to survive. But people don't need a reason to survive, either. They just need each other." — Tribeca Rockaway, sniper of the Dead Heroes gang No one knows how long it's been since the world was blasted with nuclear radiation and became infested with the undead. The survivors of the Fall were the... [click here for more] | Onyx Path Publishing | $19.99 |
| Humanity has begun settling on planets circling other suns. Teleporters like myself and the new Leviathan jump ships can take anyone across the galaxy in a few hours, so the stars are at last within our reach. However, we have found dangers as well as wonders out there, and only by working together can we overcome them and take our place on the galactic stage. - Bolade Atwan, Proxy of Upeo... [click here for more] | Onyx Path Publishing | $1.99 |
| You are the child of a God, born to the magic of yesterday and the promise of tomorrow. You live in a World of myth, where every ancient story is true. Your ancient enemies, the Titans, stir in their prison beneath the lands of the dead. Their spawn issues forth from lands of myth, and the specter of war falls across the heavens. In this age of turmoil, you seize your birthrights and feel the call... [click here for more] | Onyx Path Publishing | $14.95 |
| "Welcome to my humble palace in the Big A.C. Don't mind the blood. I'm sure you'll be much better at your job than he was." — Maajida, Head of the A.C. Black Market Welcome to the Big A.C., a place of glitz, glamor, and danger within the post-apocalyptic wasteland. Here, you'll find all of the best and worst that humanity has to offer. Glamorous parties... [click here for more] | Onyx Path Publishing | $1.99 |
|    The Gods have the answers to life, the universe, and what is to come. They hold birthrights and secrets from their centuries of existence. But aren't there new understandings and new things to be discovered?     Scion: The New Gods presents a complete pantheon built around the myths that run the modern World and gives Storyguides and players the tools to introduce them.  ... [click here for more] | Onyx Path Publishing | $10.00 $4.99 |
| Scion Solo Adventures There are many ways to play role-playing games. For most of us, the immediate picture in your mind's eye is that of a group of friends around a dining room table with everyone sat in front of their character sheet and dice, books scattered around. It is probably more likely that most role-players are actually sat in front of their PC playing their favorite game via chat on... [click here for more] | Onyx Path Publishing | $2.95 |
| The Netjer Pantheon's Gods number in the thousands, although a select few have captured the World's eye. In Nile War Gods, learn about three of their number who are less well-known, but are dedicated warriors for the pantheon nonetheless.  This product includes:  Descriptions, Callings, and Purviews for three lesser Netjer: Anhur, Montu, and Satis.  Three new relics, one that... [click here for more] | Onyx Path Publishing | $0.50 |